As if you couldn't spend any more time on there, Baseball-Reference has added uniform number data to the website.
Let's take a look at each number and see who ran up the highest career WAR and who wore it for the most seasons.
The first list for each number shows each uni number's top ten by Wins Above Replacement. Players that only wore the number for a season or two were removed from the list. For instance, Jimmie Foxx actually tops the #1 list, having worn that number for the Cubs in 1944. But he wore 3 for the bulk of his career and he'll be on that list instead.
The second list shows the ten players that wore the number for the most seasons.
1
And here's the list by season
By both WAR and seasons played, Smith, Whitaker and Reese are the top three #1's. It's pretty clear that by the top spot belongs to The Wizard and as you can see, he's pretty pumped about it.
2
This is a two-horse race between Jeter and Gehringer. It'll be interesting to see if Jeter can catch Detroit's Hall of Fame second baseman, who currently sits 7.3 wins ahead. The Yanks' captain is signed for 2012 and 2013 with a player option for 2014, so I think he'll fall just short.
However, with a boost from being the de facto face of baseball for most of the last two decades and the fact that Gehringer accrued more than a quarter of his value without a uniform number, I'll give Jeter the nod as the greatest #2.
It's worth noting that by similarity score, Jeter's number five comp is Gehringer and Gehringer's number nine comp is Jeter.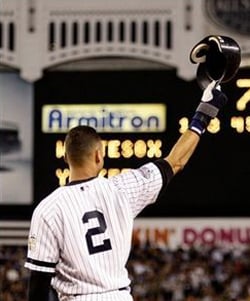 3
I'm not surprised to see Eric Chavez here, but how about Cesar Izturis?
The top three 3's by bWAR include Foxx, Rodriguez (who by the end of the season will have worn 13 for as many years as he did 3) and Ruth, who only wore the iconic number for the final seven seasons of his 22-year career. But even though he already had 470 homers before he wore it, there is only one answer for the greatest #3.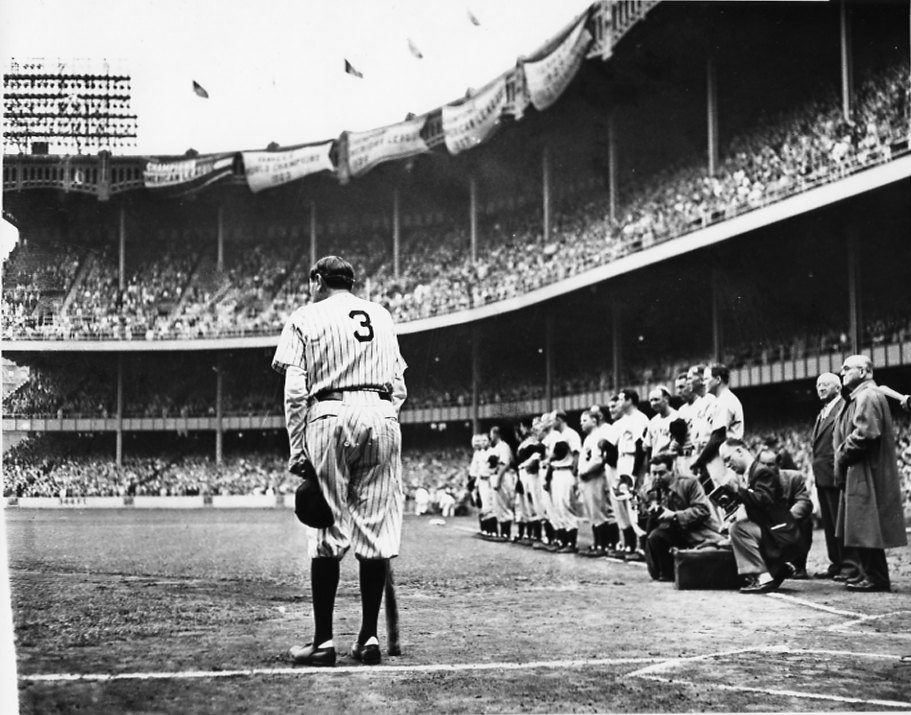 4
A bunch of Hall of Famers here, but I'll go with the first player to get his number retired.
5
Hank Aaron wore 5 during his rookie season in 1954 before switching to 44, but he's not on these lists. You could make a strong case for any of six different legends. Robinson wore it for the longest time and is the greatest defensive third baseman ever. Bench might be the best backstop of all time. Pujols leads in bWAR and will add to his total. Brett is just behind him and ranks higher than each of the others on B-R's EloRater list. And then there's only Joe DiMaggio Jeff Bagwell.
I'm just starting this exercise, but I don't think I'll find a tougher call. Since he still has nine years left on his contract and will likely end up with some incredible lifetime totals, I'll go with Albert Pujols.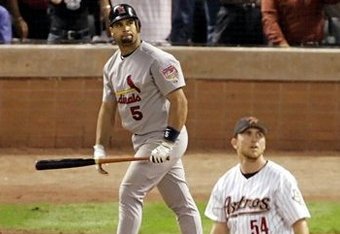 6
It's nice to see J.T. Snow and Dan Wilson here, but this one goes to The Man (RIP).
7
Some impressive names here, and Joe Mauer should crack the top ten pretty soon. With apologies to Pudge Rodriguez, Craig Biggio and the overlooked Kenny Lofton, the choice is Mickey Mantle.
8
A brutally tough decision here. We have three all-time great catchers, two 400-HR/3,000 H greats that played 20+ seasons with the same team, the best (or second-best) second baseman ever, plus Alex Gonzalez and Mark Loretta!
In a very close race, I'll give it to Cal Ripken since he wore 8 for his whole career while Joe Morgan didn't wear the number in his Houston days.
9
I love seeing Marquis Grissom here, and there are several solid Hall of Very Good-type players like Olerud, Torre and Nettles. That said, the greatest #9 is obviously Teddy Ballgame.
And we can't forget those who wore 0 or 00! Below are the complete lists of those players.
0
00
Far from a zero, Al Oliver banged out 2,743 hits to earn the top spot among 0's. I'll give the 00 nod to the oft-traveled Bobo Newsom, who was traded 16 times in his 20-year career.